Former Republic of Ireland and Premier League footballer Jonathan Douglas is relishing the chance to once again shine on the big occasion, only this time with the London Masters Gaelic football team.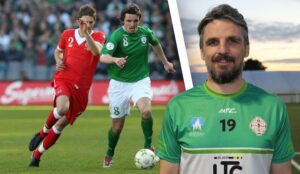 Douglas, who won nine Ireland caps between 2004-07, will line out for the Exiles in Saturday's Masters second-tier Shield final against Derry at St Peregine's, Dublin.
The 41-year-old played underage for Monaghan before going on to play professional football for the likes of Brentford, Leeds United, Blackburn Rovers and Ipswich Town.
"It's a game I'm looking forward to," said Douglas, who helped London to Masters Challenge Cup (tier four) success last year.
"I love it; I've always loved playing Gaelic. I was probably more into Gaelic than soccer growing up, but soccer was a better option to make a career out of it,"
"We've got nothing to lose; we're not expected to win. All the pressure's on them, so we'll go there and give it a good whack."
Saturday will also see Douglas renew acquittances with Derry great Paddy Bradley – 25 years after they crossed paths in an Ulster minor championship match at Celtic Park.
"He didn't miss many that's for sure," added Douglas. "Paddy Bradley's one of the best forwards that Derry have produced and going up against players like that will be a great experience."
Douglas lined out at corner forward that Celtic Park day, but went back into midfield to try and curtail the influence of Bradley. "We couldn't get a grip on him," he recalled.
Speaking in a previous interview with The Irish World, he said: "Even though we were well-beaten, getting picked for your county was great. I knew that was probably my last game of Gaelic for a while. It's something I look back on fondly." Soon after, Douglas left to pursue a career in soccer.
His subsequent 20 years as a professional footballer may have curtailed his GAA career, but he's never lost his love of the sport.
Growing up in Clones, it was always soccer on Saturday and GAA on Sunday.
"I love it; I've always loved playing Gaelic. I was probably more into Gaelic than soccer growing up, but soccer was a better option to make a career out it," he says.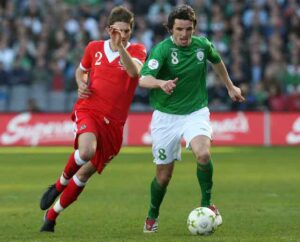 "When I was home for the summer, I'd train with the Gaelic team and go and watch Clones play, and to the Ulster finals and semi-finals."
It was a chance conversation at a Brentford home game that led to Douglas' involvement with the Masters.
Former Farney star Dessie Mone – a PE teacher at Douglas' daughter's school in Clones – had asked him about getting tickets to a Bees match for him and his brother, Connor Mone.
Connor was already involved with the London Masters team, and it was he who planted the seed in Douglas.
"I've been going ever since and I'm really enjoying it," he says.
Douglas capped his first year by helping the Exiles to that fourth-tier Challenge Cup success, with victory over Leitrim/Longford in the final.
He's played a leading role again this year, including scoring a crucial goal in London's Shield/Plate play-off win against Laois.
"It's been a great experience for me and one I've really enjoyed. It's great to be part of it," he said.
"There's a lot of boys a good few years older than me – our goalkeeper's 61 and he goes training every week. Boys like that are inspirational that they want to keep going."
For Douglas, his initial motivation for getting involved was primarily just to keep fit.
"I've grown up in a team environment and I started out just to train and keep fit because I don't enjoy running on my own, and I don't really go to the gym on my own," he said.
"But over time when we started winning games you get the old competitive juices going again."
Challenge
The challenge for London this year was to build on last year's success, but rather than just set their sights on the Plate (third-tier), Douglas says the players felt that they were capable of far more.
"We knew we had a couple of new boys coming in who were real quality and we were maybe capable of getting into the second-tier,' says Douglas, who is also involved with St Brendan's GAA club in London.
He attributes the team's success over the past two years to its strong work ethic and the close bond among the players, forged partly through travelling.
"I don't think other counties would travel as much as us. That all helps. We've got a good group and we all enjoy working hard for one another," he said.
"We probably started training earlier than most counties – just after New Year – and we've been going since then."
Saturday will be the biggest game yet for London's Masters footballers, since the team was reformed in 2017.
Douglas is obviously no stranger to the big occasion having played in front of huge crowds at Croke Park, Lansdowne Road, Wembley and Cardiff's Millennium Stadium, and in four English league play-off finals.
But that won't make him immune from a few butterflies as throw in approaches against Derry.
"Just because I've played in some big stadia in front of big crowds, it doesn't matter if there's ten people there or 80,000 you still get a little bit nervous. This game will be no different," he said.
He adds: "At the end of the day it's all about enjoyment – at our age you can't get too serious. But it doesn't mean you don't go out wanting to win.
"If we can win against Derry, great. But if we don't it's still been a great achievement for us, and I'm sure we'll meet again in January and we'll try and go one better."
Related: Former ROI, Brentford and Leeds midfielder Jonathan is still living the dream with a new lease of life playing for the London's Gaelic Masters football team