Like an Agatha Christie mystery in the Wicklow Mountains
24/01/2023
Author Sam Blake, real name Vanessa Fox O'Loughlin, told David Hennessy about her new book The Mystery of Four, how it took influence from the mystery of Ireland's vanishing triangle and why she thinks so many Irish females are shining as crime writers at the moment.
Sam Blake has been an Irish Times Number One, an Eason number one bestseller and has three times been shortlisted for the Irish Crime Novel of the Year.
Originally from St Albans, she has long lived in Wicklow and this is exactly where her latest book, The Mystery of Four, is also set.
Set in a country house estate high in the Wicklow Mountains during a very hot summer, the book tells the story of a community who are shocked by four tragic deaths and four methods of murder.
Tess Morgan has finally made her dream of restoring beautiful Kilfenora House and Gardens into a reality.
But the week before the grand opening, her dream turns into a nightmare when a tabloid journalist rings to say he believes a body is buried on her property.
There have always been rumours that Kilfenora House is cursed, but when people around her start to die, Tess worries there could be a killer- not just a victim- on her land that this could be very personal.
The Mystery of Four is a new departure for its author and very different from its predecessor Remember My Name which was centred around cybersecurity.
Sam told The Irish World: "It's more Agatha Christie inspired, a bit more of a cosy mystery.
"I like with each book to try and stretch myself and do something a little bit different and the last one was quite urban and it was very fast paced.
"I really fancied doing something that was a bit different with this.
"I'm really interested in the whole country house/ locked room type setting.
"So it's a lot more characters in this one than I would normally have as well.
"So yeah, absolutely different type of book."
It's intesting to imagine a Poirot or Miss Marple story in a rural Irish setting.
"She always has a lot of- they're eccentric now when we read them but I think at the time, they were probably quite normal- eccentric characters, they're larger than life.
"And Clarissa is the retired actress in the story.
"She's quite Christie-esque in many, many ways.
"I love that sense of the older woman doing the investigation and being a detective.
"So she's sort of our detective a bit.
"And that sense of different personalities.
"I think in a Christie story, you always find there's a whole mixture of different personalities and different roles.
"So we've got the publican and we've got the doctor's daughters and a whole load of different people.
"I was really trying to get across that sense of community and the fact that it was a real village and it has that isolation.
"It's that locked room thing. That's what I was trying to go for with the with the country house and its estate and us not really being very sure what's going on, or I suppose who the enemy is.
"It's the enemy within, isn't it?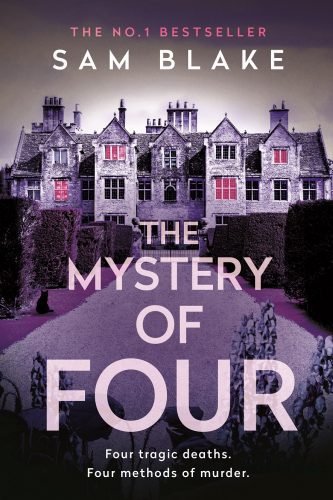 "Location is really a character in the story.
"I want people to feel like they're in Wicklow,
"If you're reading it in a tent in Alaska or an apartment in New York that you actually feel like you've been there.
"So hopefully I've captured Wicklow, and that sense of the space and the mountains and the beauty of the place as well.
"Obviously I live here so you want to make sure you try and get that across.
"Hopefully it'll transport people to Co. Wicklow in the summer in fact."
The Irish World was reminded of one of Ireland's true crime mysteries when reading The Mystery of Four.
And it is not long into our chat that Sam mentions a well known serial killer and how it sowed the seeds of the idea for the book.
"I watched a documentary with Trevor McDonald.
"He made a whole series of documentaries about cold cases, and brought in a profiler and different types of people.
"I was in London and just caught the end of this documentary and they were trying to track Fred West's victims.
"There was a particular farm that they thought one of the victims had been buried on and they went to the owners of the farm but they wouldn't give permission for them to excavate.
"They had dogs and diggers and all sorts of things they wanted to bring on.
"I just thought that was really interesting.
"I thought it was very interesting that you could have a piece of land and suddenly discover that somebody had been buried on it.
"And what do you do? Why did they say no?
"I just thought it was very interesting.
"So that started me off thinking about what might happen to somebody who was in the same situation.
"That was part of the genesis of the story, one element of it."
Indeed, the story begins with Tess building up to the grand opening of the country house she has renovated when she receives a call out of the blue from a journalist who says he has information that a body could be buried on her land.
Of course it is the last thing Tess needs. There are already whispers that the house is cursed due to how previous residents perished.
However, while any body buried on her land has been there a long time, it is not long before people start to turn up dead in the here and now.
The 'Radio Snatcher' as they refer to him in the book is very reminiscent of Ireland's vanishing triangle.
Between 1993 and 1998, eight women disappeared in the Leinster area. These included Annie McCarrick, Jojo Dullard and Deirdre Jacob. None of the women have ever been found and their disappearances remain a mystery.
The book even includes a character Eoin Doyle who has long been a suspect. While he has never been charged, he nevertheless remains viewed with suspicion in the area.
There is also a suspect in the vanishing triangle disappearances who has never been charged but always remained under suspicion.
Did these mysteries inspire the story? "Yeah, absolutely.
"I think that's ever present here.
"I live in Kilmacanogue, I'm just down the road from Enniskerry and when Annie McCarrick disappeared, that was the one that struck me the most.
"Because that was in March '93 and I'd only arrived in Ireland in September '92, so we'd been here about the same length of time, we were both foreigners.
"She was a bit older than me, but we were similar ages.
"I just felt we had a lot of a lot in common and it was so close.
"Literally, I was living down the road.
"So I think the vanishing triangle and people disappearing in this country, it's very much in your mind the whole time.
"So definitely an influence."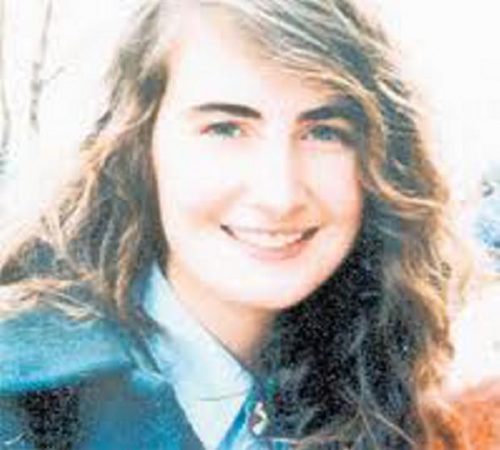 Annie McCarrick was a 26-year-old woman from Long Island, New York who was living in Dublin  when she went missing after last being seen at Johnny Fox's pub in Glencullen with an unknown man.
It was just last year that Gardai announced there would be no prosecution in the case of Deirdre Jacob.
Gardai had searched an area near the Wicklow/ Kildare border after someone who was in prison with Murphy said he had boasted of being involved in Deirdre's disappearance while he was locked up.
It is a similar jail confession that brings the tabloids to Tess' country estate in the book.
"I think that happens a lot.
"You come across a lot of stories where things have been said in jail or information passed on.
"I think as a crime writer, you're always drawing on true life because truth is stranger than fiction.
"You couldn't make up some of the stuff.
"It's always out there, ever present and I'm very aware of the fact that, particularly with crimes like the vanishing triangle and stuff like that, there are victims involved and there are families.
"I'm always very conscious of that.
"So I try and step away as much as possible from real life, make sure that it's completely fictional, but you're always going to find that you're drawing on real stories, I think.
"I think the truth can often be stranger than fiction."
The book's protagonist Tess is dealing with her own ghosts as she saw a former boyfriend killed in a hit and run. She went to Dubai to escape but has now returned home to find her ghosts waiting for her.
"I think trauma stays with you, doesn't it?
"And that's really with Tess is that she's very much still got that trauma from earlier in her life.
"She tried to run away from it.
"She tried to run away to Dubai, a complete change of scene and everything and immerse herself in work.
"But now she's got to the stage where she knows she needs to face it and to come back to Ireland.
"And again, she's trying to immerse herself in work and trying to immerse herself in the house to keep busy.
"She has her own ghosts as well as the ghosts in the house."
There has long been talk of adapting Sam's gutsy crime fighter Cat Connolly for the screen.
Is this a character she could return to? "Everybody always asks me that.
"Lots of people who read them want to see her back again.
"It's funny because some characters you feel like their story's not over and that they've got more to give.
"I don't know, we might see. We might see a peek of Cat again, I'm saying wait and see."
Having relocated to Wicklow in the early 90s, Vanessa has now been there longer than she was in her native St Albans.
"It's gorgeous here.
"I live literally five minutes from the sea and I'm looking at the big Sugar Loaf so it's right between the mountains and the sea, about half an hour from Dublin so it's very nice."
Were you from an Irish family?
"If you go back, everybody's Irish.
"So there was very much a sense of Irishness, and it being a very, very familiar place.
"So coming over here wasn't such a big thing. It wasn't like I was going to Sweden or France or somewhere that was completely different.
"It felt very much like a natural move.
"So would have been very conscious about the Irish connections, I suppose."
Vanessa is on the Society of Authors board and the Crime Writers Association.
She also runs a festival in Ireland called Murder One.
Irish crime writing has gone from strength to strength in recent years.
"Irish crime is amazing.
"There's a lot of very strong female Irish crime writers that have come through in the last few years.
"So Jane Casey and Liz Nugent, and people like that, Catherine Ryan Howard.
"We're a great community and it's lovely, because everybody's really supportive and we all know each other.
"It's very much like Ireland is everywhere, everybody knows each other.
"I think it's strange because there's a lot of crime writers in the north tend to be men and women are all from the south.
"I think women write crime because we can understand fear.
"We can get into the emotion of all the awful things that can happen.
"I think women just have an appreciation because you see those things on social media and stuff about women walking home from a nightclub and how men are just worrying about whether they're gonna get a taxi or whether they're gonna get wet, and women come from a completely different point of view.
"They're thinking about how they're going to get home safely.
"I think the appreciation of threat and fear is something that women really understand and that's what we bring to the page.
"And that keeps our readers on the edge of the seats really because it's all about peril at the end of the day.
"You need to have high stakes for your characters and if you can understand that, and bring that to the page, then hopefully that's what keeps people hooked.
"Also, I'm really interested in puzzles.
"I'm really interested in mysteries and I like a book that challenges me and crime is a great vehicle for that because I like to learn something new when I'm reading, so crime is great from that point of view.
"I think one of the reasons people read crime is because when you're working on a crime novel or you're reading one, all sorts of awful things can happen.
"But you know ultimately the writer is in control.
"So everything's gonna be okay at the end in some shape or form, maybe not for the criminal or the victim obviously but for everybody else hopefully.
"I think that's really important and I think that's probably one of the reasons why there's a lot of women writing it, because we can push to the extremes, and we can understand the extremes but we're in control at the end of the day.
"And that's hopefully what you get, you want a good sense of satisfaction from a crime novel.
"You want to be able to put it down and go, 'Wow, I didn't spot that twist', or get a really good feeling that it's concluded and resolved for the characters and that the right people get their comeuppence at the end.
"But it's funny because there's a whole load of us all of a sudden."
Sam has been honoured with huge sales and being shortlisted for coveted awards, what is she most proud of? "I think definitely being nominated for crime novel of the year is a big one because you're one of only six.
"Given how many crime writers there are in this country, and absolutely brilliant ones too so to be down to the final six is definitely a pinch me moment.
"And certainly this time just passed with the book, that's the third time so it was like, 'Wow'.
"I was really surprised actually.
"I think the best moments are when somebody emails me to say they've enjoyed a book, or they tweet or whatever, and they're somebody who I don't know who may be on the other side of the world.
"That to me is always a wow moment, I tend to find it very surprising that anybody I don't know is reading the book at all.
"You tend to think it's only going to be your friends and family so when somebody who I've never met before emails and says that they really loved such and such, that to me is always a wow moment.
"I love that, that never gets old. So it's exciting."
And there are exciting things ahead with Sam publishing her first young adult book in May called Something Terrible Happened Last Night while the next adult book is also 'done and dusted'.
"I think with every story and every book, you do all these things, and you write all these books, but with every book, you want to get better. And you want it to be a more immersive story, and you're trying new things and sometimes they work, sometimes they don't.
"But I want to stretch myself as a writer.
"That's the most important thing."
The Mystery of Four is out now.
For more information, click here.