23/01/2023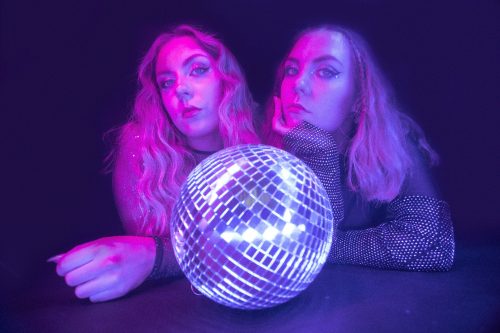 London-born/ Dublin- raised duo of twin sisters Rooue told David Hennessy about making the move back to London, launching their career in lockdown and what it has been like to get back onstage.
Having released their debut single What You Want in October 2020, Dublin-based duo Rooue have gone from strength to strength with follow up singles such as Flavour, Bad Blood, Orbit, Dancing Sad and the most recent Better Off.
Rooue is made up of twin sisters Ro and Lou, siblings who grew up in London before moving to Dublin at the age of nine.
The twins were very young when the family moved to Dublin but it was a big change when the family moved from Bounds Green first to Dún Laoghaire before settling in Killiney.
But just last year the sisters made the move back to London.
What has it been like to return now as adults?
Ro says: "I think when most people move to a different country, it takes time to kind of get settled and to feel like it's their home.
"But it felt really natural, which I guess is a great thing as well.
"I think it's because we also have quite a lot of family here and we would spend so much time here as teenagers and young adults anyway.
"Actually yesterday we were signing up for a GP and they were asking us questions, 'Have you ever registered for a GP before?'
"And I was like, 'Oh wait, actually I've lived here before'.
"In their eyes I'm British, but I feel very Irish.
"It's lovely. It's a nice best of both worlds.
"We both absolutely love it here. It's so much fun but we also absolutely love Dublin so we really are lucky that both places feel like home."
The sisters were set to release their debut single just when the pandemic hit to scupper their plans.
"It was really tough," Ro says.
"We were really blessed but it was really disappointing as well that we had finally gotten to that stage where we were like, 'Okay, we're ready to do this'.
"You're ready to put yourself out there and you're ready to share your music with the world and then being like, 'Oh, nevermind'.
"We spent a lot of time talking to other artists. We were like, 'What do you think?'
"And they were all saying to us, 'Oh, we're just going to wait until COVID stops before we release any music again'.
"And we were like, 'Do we just wait and just hope that COVID stops?'
Lou continues: "There was also that classic thing at the very beginning of COVID which none of us thought it would go past two/ three weeks, 'Let's just wait a few weeks, we'll be fine but then it got to a point where like, honestly like we had no idea.
"It was October we released so we did give it a few months. We waited through the summer and went, 'No, we don't have time to just wait. We're sitting on this music, we're ready to do it. Let's just see what happens'.
Ro agress: "Yeah, I think we were super itchy.
"I think that's probably the best way to describe it.
"But I wouldn't change anything the way it happened though.
"Even our first ever release. Obviously, we couldn't be with friends or celebrate our first drop so it was me and Lou in our dressing gowns drinking Prosecco, and I would never change that because that's such an amazing memory for us."
Lou says: "It makes a good story to tell in years to come."
Ro says: "It (Covid) really changed our perspective and everything that we had been preparing and everything that we had been studying in music college and learning about the music industry literally completely turned upside down.
"We had to completely relearn how we were going to cope with stuff like, 'How do you run a single campaign without gig promotion and music video content? How do you take your own press shots?' Small stuff like that.
"And as well, 'How do you be sensitive to the situation of releasing happy dance music when people have been finding things extremely difficult?'
"I think we definitely got to a stage where we were thankful that it happened the way that it did.
"I think we really enjoyed the journey that we had, because we learned so much.
"And we had such an opportunity to have isolated time, just the two of us without any outside distractions to really hone in on our writing."
Having released their first single in lockdown, it was quite a shock to system when live gigs returned. Rooue headlined the Workman's Cellar in Dublin and have played gigs in London since making the move.
Lou says: "I think honestly part of us is a performer, and we lost a part of that during Covid.
"So being able to have that part of me back and do it with our own music, it couldn't be any more exciting."
Ro adds: "I think as a performer you really live to do what you love.
"I remember the few days before the gig, I was so nervous.
"I didn't know if anyone was going to show up because we'd never met anybody who had listened to our music because we just spent the last year and a half in our rooms.
"So I was gonna go walk out on stage and there was gonna be three people: My mum and dad and my best friend and that's it.
"But it was so fun.
"And honestly, as soon as we did it, we were just back to ourselves, and we kind of accepted that, 'Okay. Wow, I really did have to stop being myself for this long period of time and now we can do what we love again', which was so great."
Like twins, they helped each other through the nerves and anxiety around their debut home town gig.
"We have this thing," Ro says. "We always call it our ying and yang where we help each other out.
"So when she ebbs, I flow.
"Before the gig, I was like really anxious about it all.
"We were also really stressed because the night our gig happened, the COVID restrictions changed again so nobody could buy tickets at the door and everybody had to be out by 11.
"I remember we were on the phone with our manager the night before and he was like, '60 to 80% people who said they would come are likely to decide not to come to your gig because of these new COVID restrictions and the spikes.
"We were just like, 'Oh my god, could this be any more scary?'
"And I remember just being really, really apprehensive about how this experience was gonna go down.
"And Lou was obviously like, 'Come on, Ro. It's gonna be great. It's going to be fine. I'm so excited. Don't be nervous, be excited'.
"And then I'm like, 'Okay, thanks'.
"And then I get on stage and I'm like, 'Yeah, I'm absolutely ready for this. I'm super excited'.
"And she was like, 'Oh my God. I don't know what I'm gonna do'."
Lou says, "It wasn't that I was scared, it was overwhelming."
But Ro was there for Lou in just the same way.
Do they, as twins, always know how to say the right thing at right time?
"Lou's like 50% of me," Ro says.
Lou adds: "If I'm up, Ro's down or vice versa, we pull each other through."
Ro adds: "If I'm having a bad reaction to something that's happening, Lou is like, 'Oh, it's fine'.
"And we'll just swap."
The sisters dealt with heartbreak in their recent single, Orbit. The song was about even though something may be over, it is impossible to turn the feelings off just like that.
"Heartbreak is a very underrated struggle," Lou says.
"It's very glamourised movies and stuff like that, but going through heartbreak actually genuinely can be one of the hardest mental health and general struggles you can go through.
"Having us both go through it around the same time, we're very lucky to have each other and such good friends, but you can feel very lonely and very isolated.
"You're just immediately supposed to be okay."
Ro adds: "People say you're better off without them. Don't waste any more thought about it.
"I wish that was that easy just to switch that off.
"Just because we've decided to end things or you've decided to end things I'm just supposed to be not in love with you.
"It's so hard to get up and pretend you're okay.
"I started a new job four days after me and my partner broke up.
"I just had to go in and I was teaching singing and people would come and they'd be singing breakup songs.
"Olivio Rodrigo dropped her Drivers License the same time and I swear to God, everyone wanted to sing Drivers License, and every time it came on, I was like, 'Keep yourself together, keep yourself together. I don't want to lose the plot in front of all these people."
Lou adds: "Your life just turned upside down by one sentence saying 'we need to break up' and suddenly it's just absolute, you're in orbit.
"We really want to just kind of create something that people may be able to just like, 'Yeah, I felt like that before'. Or, 'I'm going through that right now'."
Ro concludes: "It's okay not to just like in the movies have some chocolate and then go meet someone else at a party.
"That's not reality."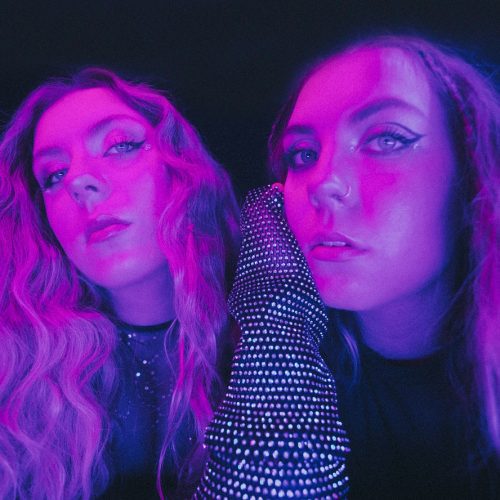 Another song Bad Blood deals with the toxicity that can exist in relationships.
Lou says: "It kind of derives from a few different experiences that we personally had, and also that we've seen with friends.
"It kind of roots in a bit of the dark side of how relationships can become whether it be unhealthy or just an unhappy situation."
Ro adds: "It kind of derived from an experience that our friend was going through.
"People say that you can fix somebody.
"You can be in a relationship with someone who has relationship issues, or someone who has a darker perspective of life, and just because you're in love with them doesn't mean it's not going to negatively affect you as a person.
"And it's that realisation, whether it's within their blood of who they are, they're always going to be the person that's going to hurt you.
"Or can you change them?
"I think it was an interesting perspective about how abusive a relationship can feel just by trying to make someone into someone they're not.
"Obviously, everyone has things going on in their lives and it's never a reason not to give someone the time of day to get to know them.
"But I think it's that question you ask yourself, 'When is it that you have to put yourself first?'
"And it's that kind of decision where you have to decide to put yourself first or you just continue and for our friend unfortunately it just continued."
The sisters' most recent single Better Off is more upbeat.
Lou says: "It's one of the first songs we wrote years ago as Rooue.
"We were teenagers and we actually revisited it and rewrote it in the mindset and perspective of the people we are now."
Ro explains: "It was one of those songs that when we would perform it at gigs, we love it and people were always like, 'I love that song, it's so much fun, are you going to release it?'
"And we were always like, 'No, I don't think so'.
"And we were just like, 'You know what? This song means so much more to us now. Let's revisit this'.
"It's funny how it goes 360."
Better Off is out now.
Rooue play The Spice of Life in Soho on Friday 27 January. 
For more information, click here.