10/01/2023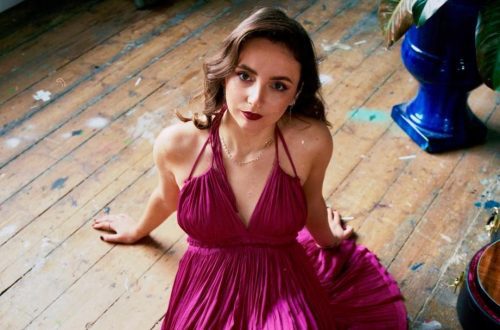 Roisin O'Hagan told David Hennessy about her current EP, her early start when it came to writing and recording and what she learned about co-writing in Nashville.
Singer- songwriter Roisin O'Hagan got an early start in the music business.
She has been writing, recording and performing since she was 12 years old.
Roisin grew up in a very musical house and was known to quietly draw in the corner while her parents, who played in a band more for fun than anything else, were working in the studio.
Roisin was still just a child when, having freshly discovered Taylor Swift, she was inspired to write and record herself.
Now 24, she has released her debut EP, Dreamstate which features singles like Sunset Valley and Road From Nevada.
From Great Baddow, Roisin travelled to Nashville in April where she spent time co-writing with published artists and recording in studios, including John McBride's prestigious Blackbird Studio.
Roisin told The Irish World: "I've got to work with really cool people in the last year, including my manager, Neal and musicians that have been recording remotely most of the time, but then I actually went to the States in April and got to watch them recording the songs and work on some of the ideas with them.
"It's been really, really cool."
Roisin considers Dreamstate her debut EP although you could strictly say it is not true.
While she released earlier recordings, she was only a child then.
This is the first with the polish and assuredness of the experience she has now.
"I've put out EPs before. I used to demo songs when I was 14, 15 years old and it made sense when I would play local festivals and things to put them on a CD.
"I never formally released it as a big thing.
"When I met Neal, my manager, now about a year and a half ago, that was the first time I properly started to work in like fancy studios and got the chance to have really great production on the songs and really awesome session musicians.
"I'd say this EP is the first proper one, first proper thing and the first time I felt like I've done something really, really deliberate.
"I feel like this EP is the first time I've known exactly what I'm kind of trying to say and do and step out of the wilderness kind of."
So how did she get started? "I've always loved music, and my whole family has always loved music.
"Growing up pop/rock/ folk music was always on in our house and I got played folk artists like Seth Lakeman and Kate Rusby.
"I got played Counting Crows who are now my favourite band.
"My dad's favourite artist Bruce Springsteen was always on around the house.
"And it just became a very natural thing for me to slip into.
"My parents had a little band with a group of friends, which was more for fun, not super serious or anything.
"But they would write together and play in open mics and started recording with a local guy who opened a studio when I was around 10 years old.
"I used to just go along with them and sit in the corner while they were working on these songs with a guy called David Booth.
"I would just draw in the corner, this quiet little kid drawing in the corner.
"Meanwhile, I was also finding out about Taylor Swift and I discovered her first two albums and listened to them back to back and I was like, 'Oh my goodness, what is this? I need to do it'.
"I knew I loved music already from the musical education I'd had up to that point but hearing Taylor Swift for the first time was like, 'I'm going to try and do that. I don't know how but I'm going to attempt to'.
"I used to be 10, 11 years old scribbling lyrics out on scraps of paper and trying to memorise little melodies for them and that just gradually turned into maybe around 13,14 my parents realising I really loved this thing.
"I eventually started to show them some of them.
"They brought me into the studio with the guy that they'd been recording little demos with, David Booth and he went, 'Okay, I'll work with you and mentor you a little bit and just help you to form some early stage demos'.
"And it kind of went from there."
The Taylor Swift influence does not come as a shock. With song titles like Sunset Valley and Road to Nevada, are you going for a US sound?
"It's never been intentional.
"I've always been played American pop/rock like Tom Petty, Bruce Springsteen, Counting Crows, Sheryl Crow, all these people.
"And obviously, discovering Taylor Swift, all just happened, none of it was ever intentional in a way of like, 'I want the kind of American sound', it just probably became a natural thing to sort of lean into that.
"When I write, I just write with an acoustic guitar and it's very bare bones.
"I've always only ever written with the idea in mind that a song should stand up as a good song without any production, regardless of genre and all those things.
"And I think a lot of the time when you start to put the instrumentation and the production onto a song, that's when it's like, 'this is definitely country rock', or whatever it is.
"But yeah, I think my melodies and stuff have always just lent themselves to that kind of sound.
"I think I'm somewhere in the middle of all of it.
"I'm definitely not full, typical British sounding music but equally, I'm not super country or anything.
"I'm just floating somewhere in the middle, trying to write really good songs and trying to prop them up with whatever instrumentation is best for the song."
You get called country, pop and other things with people unsure how to categorise you. How would you like your music to be labelled? "I don't mind
"It's one of those things.
"I've always said I have a bit of an identity crisis when it comes to music genre.
"I've always just counted myself as a singer songwriter.
"I get called country. I get called pop/ rock, I get called folky.
"I just try not to say anything because if I say to people, 'Oh, I'm a country artist', they go. 'This isn't country at all'.
"I'm actually right now working on the next set of music that I'm going to be releasing and taking it slightly away from the country elements a bit more, just experimenting with it a bit and just trying to mash a few things together with it.
"I really don't mind as long as people like it."
Roisin played live at the Cavern in Liverpool for the British Country Music Awards- her second time to do it.
How was it? "It was really cool.
"I don't count myself as super super country, but I lean into country, Americana, rootsy stuff.
"So it's really nice that they brought me into some of those showcases and things.
"The country scene in the UK- Because it's small and growing, we all know each other and it's a community.
"It's nice to be welcomed into it when I'm not full blown country, but it's definitely a scene that's growing here and people are starting to notice it a bit more.
"I think people just need to pay a bit more attention to country music.
"I think it's a very British thing to just be like, 'Oh, country music. What's that?' But there's a reason why it's loved in America."
Roisin was a Fender Undiscovered Artist of the Year 2018 finalist.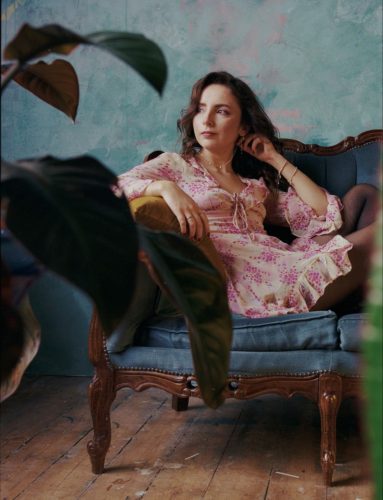 Matt Malley, the former bass player with Counting Crows, Roisin's favourite band, said: "If I had my own record label, I would sign Roisin immediately. She's the half Irish daughter I never had. Her songwriting is top notch, vocal phrasing is brilliant and arrangements are ready for the world to discover. Join this party soon…it's going to be a great one!"
She has also long been championed by BBC Radio and worked with experienced session musicians like Tim Galloway, Brian Allen and Miles McPherson from Nashville.
Asked for a highlight, she says: "I think the main thing for me has just been being opened up to another sort of layer of the music industry, and what it is like to create the music you really want to create.
"And what I mean by that is the people I'm working with, so the Nashville musicians I was mentioning, they are literally session players that do this all day, every day.
"I went into the studio and got to witness them come up with what was best for my songs. I got to write with writers out there who showed me for the first time what co-writing is and why it's really good to do.
"I think it's very easy if you've always written alone to be a bit closed minded and be like, 'Oh, I don't need to co-write because I write well enough on my own'.
"But actually, it's not about that. It's about opening up new ideas and being able to write more consistently, more frequently.
"And one of the songs on this EP is actually a co-write from when I was out in Nashville with a girl called Logan Morel.
"We had literally never met before.
"We sat there for 20 minutes together, talked about life, and then pulled out this song which we both absolutely love.
"And that has just shown me what it is to be like a songwriter.
"It's opened up this whole world of collaboration for me.
"I think the overall highlight is just feeling like in the space of the last year, my eyes have been opened to so many new things in music and what I can do and how much there is to learn."
Roisin studied music journalism at BIMM in London, was she considering a different career?
"I never wanted to be a music journalist as such,
"I would go into uni every day with my guitar, I'd be the only journalist student in the class with a guitar next to them.
"I got to the end of school and thought, 'Well, obviously, all I want to do is music. If I'm not going to be a musician, I'd at least want to work in music'.
"The course was called music journalism but it was more music marketing and media so they had loads of elements of artists' PR and communication, all that kind of thing in it.
"It just had enough in it that suited me in a way of, it could teach me some bits about actually marketing for myself."
Roisin's Irish heritage comes from our Armagh father.
"My dad's the Irish one. He's from Northern Ireland, My mum's from Essex so (I have a) half Irish, half Essex accent apparently.
"I don't sound very Essex, but definitely not Irish.
"My dad grew up in Ireland, and he moved over here when he was early 20s and I've been really lucky to go back and visit and to have that Irish connection and Celtic roots.
"I actually want to go and explore more of Ireland.
"I've never been to Dublin, and the music scene there is great, right?
"Growing up, I would always just frequently go and visit family there and there's a lot of family to the point where my gran has a list of all our birthdays.
"Before lockdowns and stuff, I was planning to go over and do like a sort of music trip and play some gigs and things over there.
"And obviously, when the pandemic hit that all got thrown out the window.
"I should do that still. So maybe that will be on the cards for next year.
"I did release a single a few years ago now called Miss you like June, which featured fiddle quite heavily in it and it was my favourite part of the whole song.
"I need to get over to Ireland."
Roisin's EP Dreamstate is out now.
For more information, click here.