Irish Film & Television UK (IFTUK), formerly known as Irish Film London, have announced the line-up of its annual flagship festival.
The Irish Film Festival London boasts a programme of the latest Irish feature films, documentaries, animation and short films to run 15- 19 November at venues such as the Vue West End, Vue Piccadilly and the London Irish Centre.
The festival opens with the UK premiere of One Night in Millstreet, the latest film from two-time Irish Film and Television Academy Award winner, Andrew Gallimore.
It is a snapshot of a country on the edge of change, revealed through the legendary prize fight in 1995 between the underdog Steve 'The Celtic Warrior' Collins and undefeated world champion Chris 'Simply the Best' Eubank, a sporting event that would grip and shape an entire nation. Chris Eubank, Steve Collins, Barry McGuigan, and 'mind trainer' Tony Quinn talk candidly about a St. Patrick's Day like no other.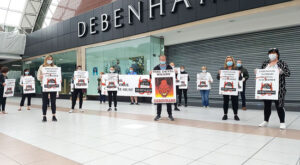 Stories by and about women are at the heart of this year's festival. The longest industrial dispute in Ireland's history is the subject of Joe Lee's enthralling 406 Days- The Debenhams Picket Line which has been showered with awards.
In April 2020, Debenhams sacked its staff by generic email and reneged on promised union-negotiated redundancy packages. The mostly female workforce refused to take this lying down. Packed with first-hand accounts, 406 Days is a testament to the tenacity of the workers and has been showered with awards.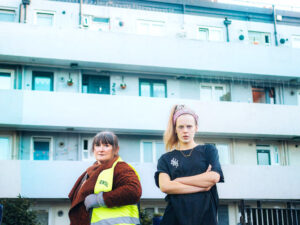 Director Patricia Kelly, an exciting new voice in Irish cinema, offers her debut feature Verdigris which follows an unlikely friendship between Marian (Geraldine McAlinden), an older woman in a loveless marriage, and young sex worker, Jewel (Maya O'Shea).
It won the Best Independent Film accolade at the Galway Film Fleadh this year.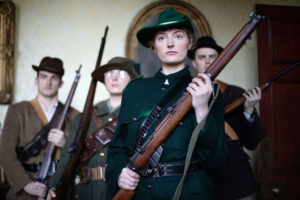 Unveiling a hidden chapter in Irish queer history, Irish language documentary Croíthe Radacacha (Radical Hearts) depicts gay women at the heart of the fight for Irish independence from the British Empire, uncompromising in their politics, committed to feminism, socialism and equal rights. Combining talking head testimony with elegantly recreated scenes, Ciara Hyland's film revives their memory and acknowledges their courage.
Festival Director Michael Hayden said: "While films in the festival take on topics including misogyny, sport, history, human rights and language, it is refreshing that all these filmmakers are as keen to entertain as they are to educate. There's no shortage of lightness, humour, compassion and hope here, too.
"This programme is the first brick in the foundation of a platform for Irish film that IFTUK intends to build in London and across the UK. While I sincerely thank all our partners supporting us in that aim, my greatest appreciation is for the filmmakers. Their vision and voices motivate us to do this."
Emerging director Lisa Mulcahy adapts Sheridan Le Fanu's novel Uncle Silas in the striking feature Lies We Tell. This spiky, distinctive period piece with a pointed feminist edge depicts an orphaned heiress (Agnes O'Casey) forced into the guardianship of her menacing Uncle Silas (David Wilmot).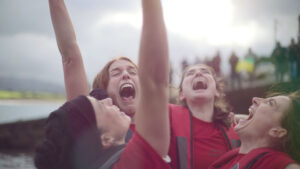 The programme also includes Irish language film Tarrac, recently featured in The Irish World. Tarrac tells the story of Aoife (Kelly Gough) who reluctantly leaves Dublin to return to her home in Kerry Gaeltacht to look after her sick father. This classic feel-good sports drama celebrates female solidarity.
Adapted from Roddy Doyle's novel, playful animation A Greyhound of a Girl, directed by Enzo D'Alò (Pinocchio), follows 11-year-old Mary, whose irrepressible passion for cooking brings generations of women in her family together. With a voice cast including Brendan Gleeson (The Banshees of Inisherin) and Sharon Horgan (Catastrophe, Bad Sisters), this is a family film with an A list cast.
Tomas Vengris' Five and a Half Love Stories in an Apartment in Vilnius, Lithuania presents various moving stories of love and tragedy from an Airbnb apartment. The ambitious, elegant film celebrating the elusive beauty in ordinary lives is a Screen Ireland co-production with the Lithuanian and Latvian film bodies and features music from Irish composer Stephen Rennicks (The Quiet Girl).
The first feature to be restored through the Irish Film Institute and Screen Ireland Digitisation Project, Reefer and the Model (Ireland, 1988) is a provocative road movie, presenting Ireland at a crossroads; a country questioning whether it can reject the violence of its past and be reborn. The 2023 Director's Cut celebrates the contribution that Joe Comerford has made to Irish Cinema.
Face Down: The Disappearance of Thomas Niedermayer, directed by Gerry Greg, is about an industrialist and devoted family man who was the Managing Director of the Grundig Factory in Belfast. Over Christmas 1973, intruders broke into his home and kidnapped him. The film illustrates how acts of violence linger far beyond the moments they are committed.
Winner of the Best Irish First Feature Award at Galway Film Fleadh, director John Carlin's Lie of the Land is about a middle-aged couple living on a small farm crippled with debt. When a newcomer appears as an angel ready to usher them into a new paradise, events take a dark turn. Shot elegantly in black and white Ó Bhéal, director Ciara Nic Chormaic shines a light on a new generation of musicians expressing themselves in the Irish language across hip hop, electronic and as singer-songwriters.
Irish Film & TV UK Festival Director Michael Hayden told The Irish World recently: "I'm really pleased with the way the programme has come together.
"I have to say, when I was offered the job, one of my anxieties was how much time we had to get the programme done.
"But actually, it's come together really quickly and really positively.
"The response we've had from filmmakers particularly has been really heartening, and really makes me think they want their work shown in the festival.
"I find that really heartening.
"In terms of content, without mentioning any specific titles, it's a really healthy programme of documentary and non-fiction work that I'm really proud of, I think we need to highlight that as much as the fiction work. We will celebrate both side by side.
"There'll be offerings for family audiences, and opportunities to see short films as well.
"It's going to be a broad programme, and one I'm very excited about."
Asked if he believed it is an exciting time for Irish film and TV, Michael said: "I think so.
"And I think a lot of people will talk about the Banshees of Inisherin or An Irish Goodbye winning the Oscar, or the success of The Quiet Girl, all of which deserve to be celebrated, as does all the TV production that goes on over there.
"At the same time, aside from all that, there's a hell of a lot of work that is just not being seen in the UK and I think part of my remit and my ambition is to shine a light on that really and give a platform to the work that isn't going to get to that level of being celebrated but certainly deserves to be seen by audiences in the UK and I think we can celebrate more."
Michael added: "In such a fascinating and productive era for Irish cinema and television, it is both a thrill and an honour to have the opportunity to offer filmmakers and their work a valuable platform in the UK. As IFTUK's activities develop, we hope to increase the importance of that platform and dutifully serve both the talented Irish creators and keen, curious audiences in the UK."
The jury for the 2023 Irish Film Awards will be headed by Festival Director Michael Hayden, and will include Colm Bairéad and Cleona Ní Chrualaoí, the Director and Producer of The Quiet Girl, Anna Rodgers and Shaun Dunne, Director and Producer of How to Tell a Secret, Kelly Campbell, Director of An Encounter and IFTUK Board Members Peter Curran, Steven Greenfield and Tara Gaule. Ros Hubbard will present the Ros Hubbard Best Newcomer Award and there will also be an Audience Award.
This year's partners are Embassy of Ireland, Screen Ireland and Culture Ireland.
The festival will also include a Screen Ireland shorts programme showcasing the work of emerging talent on Sunday 18 November at Vue Piccadilly. The Irish Film Festival will be followed by the Irish Film & Television UK Awards on 20 November.
The Irish Film Festival London runs 15- 19 November at venues such as the Vue West End, Vue Piccadilly and the London Irish Centre.
For more information and to book, click here.