04/02/2023
Country music singer Máiréad told David Hennessy about her new single, playing it for her parents at a recent gig in Northampton and why after two years of limited live music, she is ready to push on now.
Máiréad, full name Máiréad Donnelly, has been described as one of the brightest rising stars on the UK singer- songwriter scene.
Born and raised in Cookstown, Co. Tyrone, country music has always been in Máiréad's blood as she used to up and down the country from a very young age.
The Northampton- based singer has earned comparisons to US country stars such as Leann Rimes and Faith Hill.
Her releases have gained radio play including on BBC Introducing, Country Hits UK, and have amassed over 100,000 streams across streaming platforms to date.
Máiréad's tracks Crying on the Dancefloor and Belong to Me were the British Country Music Association's tracks of the week, and she has featured on Spotify's New Music Nashville editorial playlist and Apple Music Country's, New in Country playlist alongside some of the big US names.
Máiréad has just released her latest single, Back Another Day. Co-written with friend and fellow artist Matt McGinn, the song tells the story of Máiréad's and that of many others journeys moving away from home in search of something new.
Máiréad told The Irish World: "It's kind of a special- Back Another Day.
"I know everyone says that, 'It's a special one', but I feel like this one is special for me.
"Because it's kind of my own story of moving away and, I think, a lot of Irish people.
"It's all about emigration.
"When we wrote it, Matt and I talked a lot about that.
"We talked about me and then other people who've emigrated across the world and have that story of moving away from a small town in search of something else."
A line in the song says, 'Dad prefers a letter,
'Mum cries it will get better'.
"I talk about my parents in the song.
"I was saying I talk to my mam on the phone every day but my dad prefers messages.
"He's more a 'send him a message' person.
"So that was where the reference came for 'dad prefers a letter', I usually joke in my show 'actually he prefers a whatsapp'."
Máiréad recently supported up and coming pop star Billy Lockett at his Northamptonshire show and had the special opportunity of playing the song live to her parents properly for the very first time.
This was a very special moment.
"I kind of played it to them in the living room before, but they didn't take too much notice," she laughs.
"But actually, I was supporting a Northampton artist at his Christmas headline show in Northampton.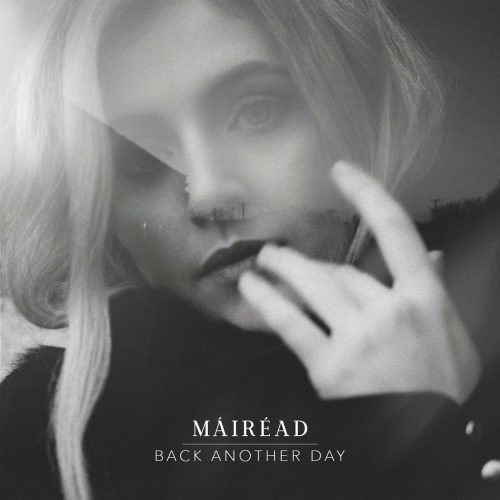 "The guy- Billy Lockett- is doing really well at the minute and my parents came over for the gig and it very special to get to play it for them at the show for the first time, that was really nice.
"They were really touched, and they were pleased to get a shout out.
"They were super happy about that."
The chorus to Back Another Day goes, 'Ever since they tore the factory down,
The kids all leave this town'.
It evokes the images of a town losing a generation when it loses its industry, all too true for many towns that were once mining, steel or factory towns but seen it all disappear. It also refers to Máiréad's own father.
"It didn't actually get torn down, my dad used to have a factory in our home town.
"I kind of thought about the town being less busy than it used to be and people thinking there's not as much there for them anymore and maybe moving on for other opportunities."
This was the case for Máiréad who left for London. After roughly seven years in the city, she moved out to Hertfordshire and has now settled in Northampton with her husband.
"When I first moved over to London, I really wanted to work on my music and there were less opportunities (at home) I suppose at that time.
"The scene has really grown over the years at home.
"I do get involved in that too and work with a lot of artists at home."
Back Another Day takes a poignant look at emigration and sounds like it came out of some homesick feelings.
Does Máiréad feel homesick at times? "I do. I think you always feel like you're missing out on home. I go home, and I always love it.
"Everyone tells me, 'You're getting the highlights really when you come home'.
"You come home and bring people together and they're not seeing each other all the time.
"I always miss home and I go home a lot actually anyway, I think you can't beat it: Being near the water and the walks and the scenery. AND THE PEOPLE.
"it's not the same anywhere else.
"I've got six nieces and nephews now back home and every time you see them, they've grown so much and with the pandemic and everything, there was a much bigger gap in the time that I got to see them and they all grew up so much.
"Things move on.
"Life moves on when you're not there and you feel like you're missing out on things.
"I had some people who've listened to the song write to me to say, 'This really resonated with me because I've just moved from Cardiff to London this week and I felt really emotional listening to it because it kind of struck a chord'.
"It's always nice to go back another day.
"I never say never, I'm always saying that to my husband.
"People ask, 'Would you move back?'
"And we say, 'Well never say never. Who knows what the future holds?'
"It's never off the cards for further down the line.
"I do get homesick but I love what I'm doing over here as well.
"I've been getting my teeth into the music scene in Northampton.
"There's a really big one, I didn't realise so it's quite nice."
It is now more than two years since Mairead released Crying on the Dancefloor which was a breakout success for the singer-songwriter.
The country number infused with an electronic beat really captured people's imaginations with UK Country duo The Shires among those who championed the track.
It got her name out there but did it feel like she could not really capitalise on that because of the pandemic? "Yeah, and that was the hard bit.
"That came out just pre-COVID and that song was kind of performing really well because my first single that I put out was a song called Searching for Ghosts.
"That was almost more like a demo sort of single and then we put out the duet with Johnny Brady and that song performed really well because John is a really popular artist in Ireland and kind of got a lot of people interested in my music and what I was doing.
"And then the follow up song from that was Crying on the Dancefloor and, probably off the back of the success of the previous single, it performed really well.
"And then COVID happened.
"It does feel like since COVID, all the opportunities are returning which is great."
The last year has seen things return to some normality and some live gigs.
"What I've really been enjoying over the last year is getting back in the studio and recording again in person and writing in person with people.
"Because before we were having to do everything virtually.
"It opens up a world of being able to do that virtually which is great but it's been nice just really getting back.
"I'm starting to get ready for the spring/summer festivals actually.
"That's exciting because that was not really happening last year.
"New artists weren't getting a slot because they were trying to honour- understandably- the artists who had missed out on the line-up because of COVID.
"I'm starting to see new festivals and new venues supporting original music again and gigs starting back up.
"I do feel like the industry is still healing.
"And there's still more time and work needed, I suppose.
"I mean, although there's been the COVID pandemic, there's now obviously everything that's happening at the moment (cost of living crisis) so people are worried financially, and I do still think people are coming out to live music again, which is great."
Does Máiréad have a sense that- like many- her progress has been hampered by the pandemic? "Yeah, I probably haven't been able to do as much as I would have liked.
"Had it not been COVID, I probably would have released Back Another Day at least a year or two ago.
"But when you've got these songs, and then sometimes when you just release them online, without doing any of the promotional work or any live shows, the songs kind of can just get lost in the stratosphere.
"So I think I've probably held off with releasing some music over the last few years for that reason.
"And getting my music out there so is what I'm more ready to do this year.
"I'm currently preparing my next single which we're hoping to put out in March.
"And then hopefully a few more after that this year, it's the year of the releases."
On those Faith Hill/ Leann Rimes comparisons, she says: "I used to sing in competitions and things a lot when I was younger, especially at home and those would often be kind of comparisons or radio hosts would say, 'That's sort of reminiscent of an early…' I love that.
"It is different because I think I try to make sure I'm still doing my own thing and not trying to imitate any other artist and keeping to your own sound."
Mairead has described her sound as Irish- icana.
"It's definitely true.
"I am very definitely interested and influenced by that sort of Americana- Nashville style of music.
"I always find when I listen to that, I feel really inspired because the writing is so deep and so great.
"I love Beth Nielsen Chapman: Such a great writer. Love listening to her songs and taking inspiration from that.
"The artists that I was writing with yesterday has done some work with her out in Nashville and she was boasting about her, just how fab she is.
"I never realised that she actually wrote that song This Kiss that Faith Hill sings.
"I didn't realise that was one of Beth's.
"I never knew that.
"Rachel, who I was writing with yesterday, was saying that at Beth's gigs she always performs that song because she jokes, 'This song put my son through school and college. I must sing it'.
"I thought, 'That's great'.
"Imagine having a song like that in your repertoire.
"Dolly Parton is always the number one inspiration.
"If I'm ever stuck, I sometimes listen to her music."
Máiréad has not been to Nashville yet but it is definitely in the plans.
"I've worked with artists there, but I've not been.
"It's something that was kind of in the plan for the summer pre- COVID, and then hasn't happened.
"But it's on the bucket list."
With a day job as a qualified speech therapist who works with children.
"I love working with kids as well.
"I sing a lot of nursery rhymes in the day.
Máiréad has known she wanted to be a singer from the age of seven but some people just don't understand that it has no 'expiration date'.
"Music's just something I'll always be doing for my whole life.
"When I'm working with other artists, we always have the same conversation, that people say, 'How long are you going to do it for?'
"When you're an independent artist, if you're unsigned, and you're doing it yourself, people say, 'Maybe in a few years, you'll do something different'.
"It's really hard to explain to people that it's an art.
"You wouldn't say to somebody, 'When are you going to stop painting?'
"Or, 'When are you going to stop any of your craft?'
"I think sometimes people feel like music has an expiration date but it's really something that you just feel and you'll do it forever really."
Back Another Day is out now on all major streaming platforms.
For more information, click here.