24/01/2023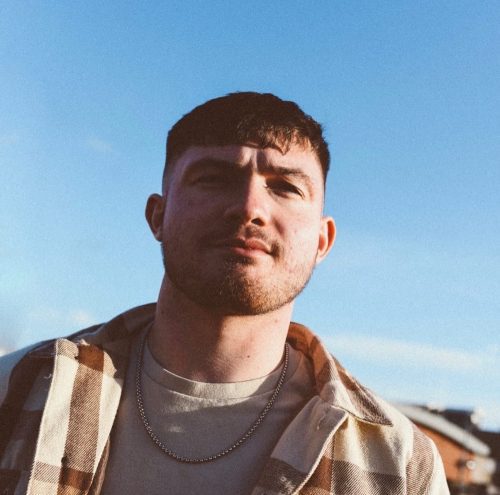 Singer- songwriter James Keegan told David Hennessy about his debut single, the words of encouragement he got from Roy Keane and getting praise from Damien Dempsey.
James Keegan is a 19-year-old songwriter from Roy Keane's home turf of Mayfield in Cork and Keano has already taken the time to encourage him in his career.
Having played Whelan's Ones to Watch, James released his debut single last week.
Entitled Learning to Smile, it has already been endorsed by Damien Dempsey who said James has "a powerful voice with a great rasp in it."
James told The Irish World: "I wrote Learning to Smile on my bed when I was about 16. I wasn't really thinking about anything but I definitely wasn't okay. The song is about my battle with mental health at an early age and how I learned how to cope with it. When writing the song it kind of just came out of me, unlike any other song I've ever wrote before. The next day I brought it into my music class and played it to a drummer I used to play with and he asked me "is that your song?" to which I replied, "ya, I wrote it last night." He really liked it. I knew then that if at least one person liked the song, I had to do something with it, just to get me off the mark. I ended up recording and finishing the song two years later, finally getting what I wanted with it."
James spoke to us from the studio in Coláiste Stiofáin Naofa where he studies music.
On releasing his debut song, he says: "Hopefully it will be successful but I'm really happy just to get off the mark.
"I've been sitting on the song years so it's nice to get rid of it, you know what I mean?"
It certainly sounds personal, what inspired the song? "Just before lockdown I was in Transition year which is the year you basically do nothing and you're just there.
"We were just doing nothing in school and I was thinking, 'This is terrible. This is the worst thing ever'.
"We were meant to go over to London and do all these trips with the school and they were all cancelled.
"We were just going over to see the city
"My family originally are from England so I have family in Gloucestershire but I follow Arsenal as well.
"I'm a massive Arsenal fan so I wanted to go over to see Arsenal play and a few of us were going to do it.
"And then obviously that got pulled so that was the most disappointing thing for me really.
"It was like every hope, because of the COVID, was gone.
"I wanted to start live gigging and stuff and I couldn't.
"Everything was just taken away from me basically.
"I suppose I just got through it writing songs really.
"When I wrote the song, it's one of the songs that just came out of me.
"And I was like, 'Woah, I can actually do something with this song'."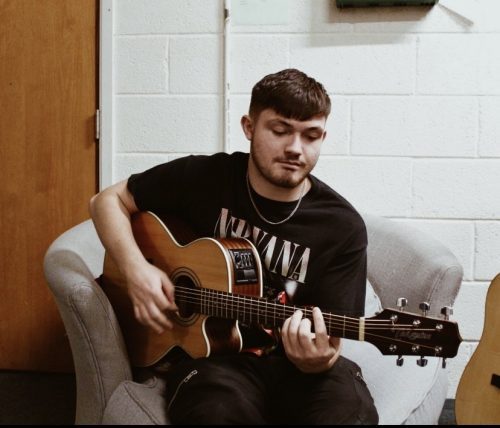 Is songwriting like therapy to James? "Yeah, definitely. I'm one of the people that have to write almost every day.
"It's part of my routine just to write and get something off my mind.
"Once that's done, then I feel a lot better."
Dublin troubadour Damien Dempsey described James' debut single Learning to Smile as a song with "a beautiful soaring melody" as well as a song with "a strong message."
What was it like to get such praise from Damo? "It's unbelievable.
"I grew up with Damo's music.
"My old man was big into Damo.
"My old man kind of pushed me to show my song to Damien Dempsey. I didn't know what he was gonna think of it and Damo liked the song.
"He said really nice words about it.
"He said the song had a soaring melody and that my voice was powerful.
"I was gobsmacked by that.
"Damo's great for supporting young Irish artists."
James wants to plan a trip to London again but hopefully with a gig involved.
"That's the plan now really.
"I kind of took a step back from wanting to see Arsenal at the minute because I'm looking at trying to get gigs over there.
"When I played Whelan's last week, it was a real eye opener.
"When I walked in, I saw all the pictures on the wall.
"I saw Hozier. Then I seen Glen Hansard, Mumford and Sons and U2.
"I was like, 'Jesus, this is really serious. This is a proper venue'.
"The crowd were great too."
James learned his trade playing the pubs in Mayfield.
On 29 December, James played a sold out gig at The Cotton Ball pub in Mayfield, selling over 200 tickets in aid of mental health charities.
"I started off when I was 17 playing in pubs and I played in my local pub, and I ended up getting a lot of people up there on a Sunday night, and it wouldn't have been normal to have as much people up there.
"And people were coming again and again, the momentum kept going and I was like, 'Okay, people are coming to actually see me now. They're not my friends or family, these are people from the community coming to see me.
"So then I got the whole idea, 'I'm going to hold a gig and I'm gonna ticket the event and give the money to charity'.
"That was my idea and it worked out.
"I sold 250 tickets, the whole event sold out.
"It was crazy. I wasn't expecting it really.
"But the community here are great for getting behind artists and everyone really."
James attended the same Mayfield Community School as Roy Keane and Mayfield's legendary Manchester United captain has already given James some words of encouragement.
"Roy (Keane) came into my school when I was doing my leaving cert, and gave me a nice chat, 'Just keep going. You're on the right path. Just keep your head down and work hard and stay humble'.
"I was kind of blown away.
"I was like, 'Thanks, Roy'.
"Obviously one of the best footballers ever coming to say that is really, really cool."
James treasures his picture with Keano from that day. How good would it be if Roy came to a gig of his? "It would be unbelievable really.
"If he wants to come, he knows where I am.
"Roy's a legend."
James is a third cousin of Lee Keegan who announced his retirement from the Mayo county team just last week.
James has excelled at football himself at underage level for Cork playing for his county from Under- 13 up to under- 17.
"I played for Cork for three or four years.
"It was a great experience.
"There's one game I'll never forget because my best friend also got signed as well.
"This fella is ridiculously talented.
"He joined GAA for a couple of months and he was signed for Cork.
"And I'm playing GAA since I'm young, 'Why can't I just do that?'
"And then the two of us played for Cork, the two of us were in midfield together up in Meath against Meath.
"We got hammered but it was a really, really nice experience.
"It was nice to go back down on the bus with someone that I'm really close with, my actual best friend outside of sport."
What happened to Gaelic football? Did music take over? "I had to really drop the Gaelic football because I was playing club level after I stopped playing for Cork and I was like, 'Look, this is getting really busy'.
"I had training on Tuesday and Thursday when I really wanted to write songs on a Tuesday night and a Thursday night.
"I really wanted to practice so it's either one or the other.
"I really enjoyed it but my musicianship came along a lot more with me just focusing on music because it's what I want to do really."
So what's next? Well James may have his follow up single all ready to go.
"I'm recording single two in early February and then I'm looking to get it released by March/ April.
"I'm all about being consistent because you can't give a half arsed attempt at going, 'Okay, I'm gonna just record this and hope it's gonna blow up' because that's just not how it works.
"I'm all about writing songs and the journey and getting better along the way.
"There's one song I really like.
"It's a song called Take Me Home.
"I've actually written the song about feeling homesick.
"I don't stray far from my home.
"I'm a mammy's boy. I'd be lost without my mother.
"I was like, 'Okay, I need to go home'.
"I was only away for a week or so.
"It was my first holiday away with the lads.
"I was like, 'Jesus, this is my first time away and I haven't a clue what to do.
"And I was like, 'Just take me home, get me home'."
Learning to Smile is out now.
For more information, search James Keegan on social media.